You must visit Jaipur (Rajasthan) to see Incredible India's true awesome past and to vibe how our majesties and rulers of India used to lead their king-size life. I have a splendid connection with this city as my love of my life belongs here. 
It's is really a very splendid city
With its magnificent palaces, which till date are preserved very well, I will like to state the first time I had visited here. I was working at 91Springboard, Delhi. I quickly checked the Flight Schedule  and snapped a flight to Jaipur.
Hawa Mahal
I heard about Hawa Mahal a lot and thought of something strange. When I was a kid, it used to spin in Discovery and Nat Geo many times. So I grabbed her and went out to Hawa Mahal and well it was amazing and awesome. Quick note if you're planning Hawa Mahal.
Jantar Mantar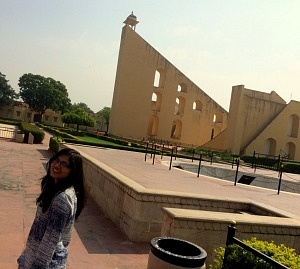 Jantar Mantar is adjacent to Hawa Mahal and Jantar Mantar of Jaipur is the best one and I must insist that you should take a guide before heading inside otherwise it will look like pile of stones here and there. It was an amazing experience inside. This medieval observatory is much better maintained than the one of similar name in Delhi, though I'm not sure this difference warrants coming all the way to Jaipur. But it is the best one as all of the Jantar Mantar's are made by the same king and if he made it in other cities first as a try-out and made the Jaipur's one at the end. Unless you've a student card, (Though I was kicked out from college, I retained the card haha) it will be abit expensive and it is deafening hot inside.
I strongly recommend to  start early as there are four places you need to hit. After the Jantar Mantar; there is city palace and Govind Devji's Mandir but I had it skipped that day and headed for Amer fort and Jalmahal instead.
Amer Fort
The aesthetic ambiance of the Amer fort must be visited by all. Constructed of red sandstone and marble, the attractive, opulent palace is constructed by four different layers consisting the Diwan-e-Aam, or "Hall of Public Audience", the Diwan-e-Khas, or "Hall of Private Audience", the Sheesh Mahal (mirror palace), or Jai Mandir, and the Sukh Niwas where a cool climate is artificially created by winds that blow over a water cascade within the palace. It has its hundred-year-old vibrant markets and hence, the feel of the city, being a unforgettable tourist destination. I saw lots of tiny fish in the lake beside the fort and fed them.
Quick Tip: Love Batman? Do not forget to ride down through the tunnels. You can see tons of bats here and there. Infact, the whole Jaipur has too many bats ha! But, these tunnels are fascinating.
Jalmahal
I also enjoyed the play of colour in the water during the sunset in Jalmahal,the water palace of Jaipur. It is located in the middle of the ManSagar lake and eye-popping makeover.
This low-rise symmetrical palace, that once used as shooting lodge for the Maharajah, appears to float in the centre of Sagar Lake. The light sand coloured stone walls of the Jal Mahal Jaipur are at a stark contrast to the deep blue of the waters of the lake, while from the innards of the palace lush foliage sprouts.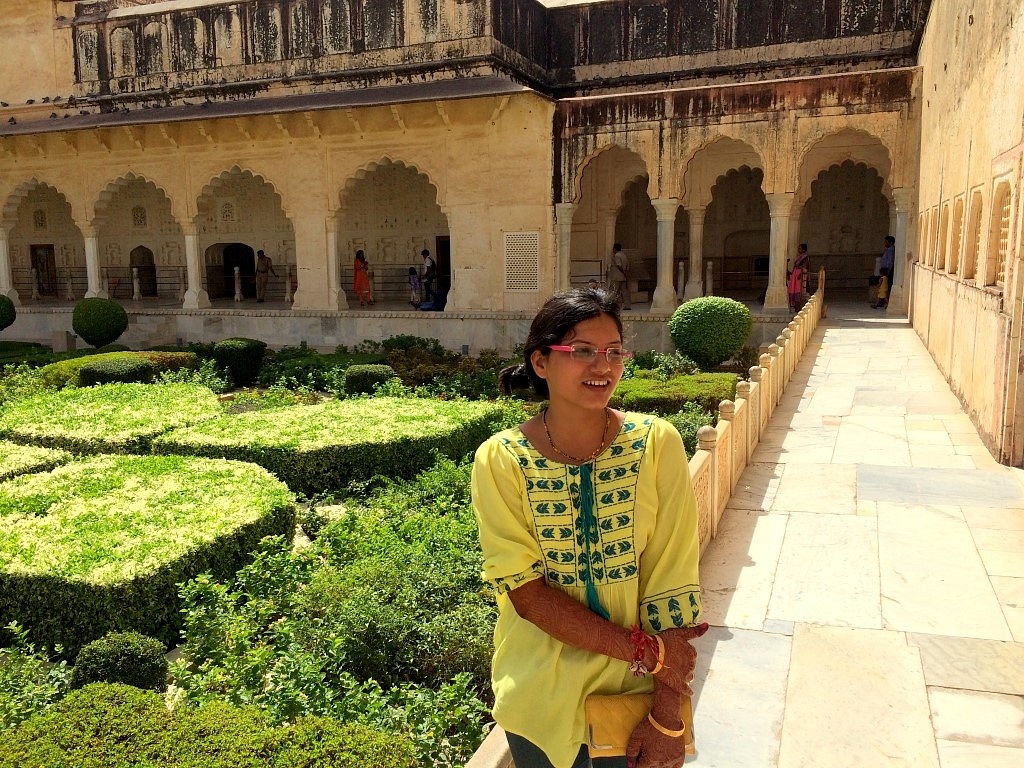 She was quite happy showing me these huge garden. Look what they have made for their queen. I need one big garden this and that and other further stuff ! :D Well, great queens used to get tandoorized at those days in those hot forts while watching such big gardens haha. 
All thanks to a Rajput king.
I spent a majority of my life in Kolkata and never thought any city can be as good as Kolkata for foodies. So when I landed in Jaipur I got heartbroken as though Jaipur is amazing place for vegans and there are only few hidden places where you can find chicken. Well, I hailed an Uber and hunted out KFC. Later I found a chicken shop near inside the street by the side of Rawaat Kachoriwala which saved my life and cherished my journey further.