Here goes the story of how I created a profitable online business without investment, made some profits and sold the business within 2 weeks!
I will give you the exact numbers and steps in this article-
The idea
The fastest profitable idea for an online business without investment is to create a dropshipping site. After you fixate on starting your eCommerce Venture, picking the best products to sell is the next big challenge.
There are millions of products online from where you can choose and all of the millions of products being sold are successful.This is why picking products can be extremely difficult which can lead to products being picked on a whim, with the little consideration which ends in poor performance.
Selecting the Niche

I chose a very competitive niche – Baby Products.
It is a fruit pacifier when you can insert the fruit into the pacifier and the baby will have the power of fruit avoiding the danger of the child choking on it or swallowing it.
Selecting the niche is always an amazing journey. You never start with a blank tab. Your hobbies, Products you like (fish rods), Products you use (t-shirts), Products valuable to others (dog beds) – there is a bucketful of ideas struggling to come to the top floor of your head.
My next idea is – Dog Beds. I searched up this term's high 'average monthly searches' in Google Keyword Planner.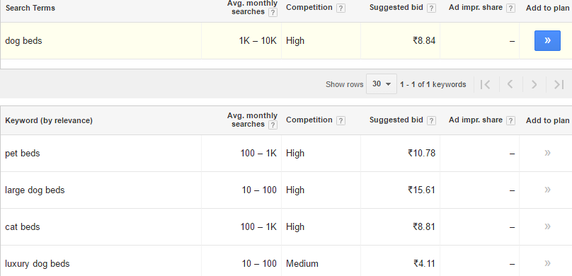 Why Pacifier?
Well, it is the current trend. I analyzed the facebook campaigns on my fellow competitors. They are getting good sales (to be precise 23551 sales on a spend of 4000$) with a shitty site and shit customer service.
I'm not selecting a niche here. I am just ensuring of being a better competitor.
The 17 Profitable Niches for Dropshipping
Are you stuck with choosing a niche? I will share 17 niches which are properly researched and are best niches for dropshippping and starting such online business without investment!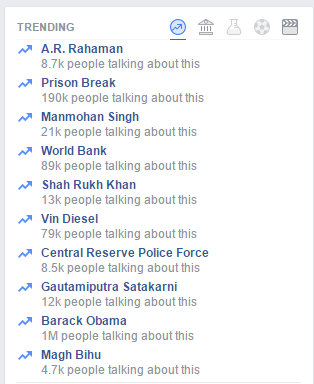 Nowadays you don't have to ask your friends their thoughts on trends. Online Business without investment is really a tough work.
They have already told their trends. In fact, you know the answer based on thousands and millions of views. How? Use Facebook!
Products can be based on trends. You can read one of such journeys here at The Money Making Theory of Eurus Holmes – Amit Ghosh
The Website
Being a WordPress developer has its own perks.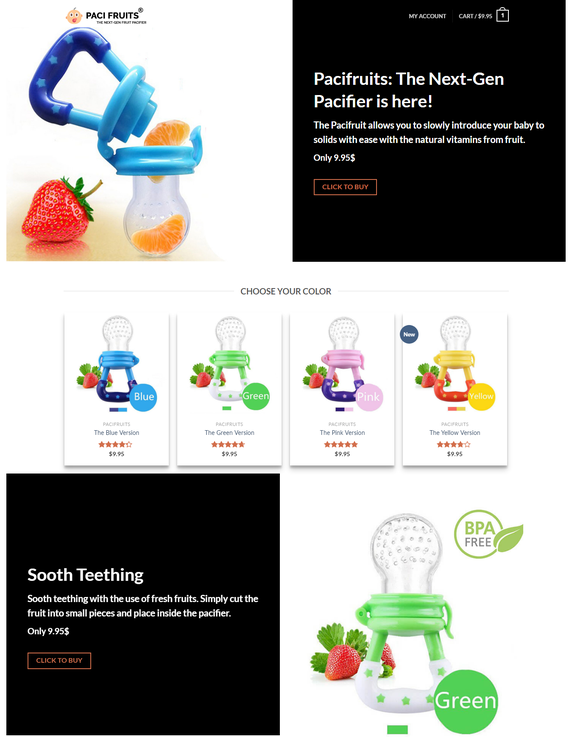 Finally, the site was done – Pacifruits
Most dropshippers think running the business is more important than the website. I will say they are equally important! That's my USP.
My CPA (Cost Per Acquisition) is much lowered just due to good site user experience and flow.
Analyzing my peers, I'm sure this site will make around 150–300$ a month in sales on a 50–100$ investment in facebook. Yes, that's how the system works mostly. Most profitable dropshippers make a funnel. They put money into a social campaign, it gets flush out as sales.
Here are the rules for starting a dropshipping business-
You need to find a place where the product is getting sold at very low cost. My product I am getting at 1$ average.
You need to find a demography who will buy. In my case, it is moms. I'm targeting US moms to be precise in this FB campaign.
My suppliers provide a long time replying, I am making a good customer service whom they can trust and recommend. The business builds from the trust, not from sales.
I will follow up my supplier on the product delivery.
SO LET'S GET YOU
Please feel free to subscribe to my newsletter and get exclusive online business strategies that you cannot find here on the blog, as well as free access to my eBooks.
x
What are the Next tasks for Online Business –
Simple. Optimizing the conversation funnel. How the customer will end up spending more item. How I implant the psychology into the site.
Wait, The worst part is it may fail, it may end up taking too much of time. Around 5% of my projects fail if we haven't done the competitive analysis but in this case, all my competitors have a shitty site with high expense.
The Shopify Mystery
They do sites on Shopify. Reason? When you learn to dropship from someone he will definitely give you their affiliated link to get you on the Shopify platform. I believe in WordPress and being a developer has its own perks.
So,
Either I will continue this site or from my experience of selling websites – it will sell in 1.5k$ like a piece of cake!
Investments this far –
Domain – 2$ for first year .com sites.
Hosting – Ah, I have a huge VPS of mine in Inmotion Hosting.
Ads – Thinking to spend 50$ this week.
SSL – Installed. I got myself a free one. Don't pay for it. In StartSSL™, you can get 3 years free SSL certifcate for any kind of online business.
Expected Return –
50$ on 50$ in the first week.
80$ on 50$ in the second week.
The more the site gains reputation the less you have to put money on ads.
The Facebook Ads
After the very first moment, I had the site created I was confident that it would get good sales. I made a facebook page and ran a Facebook PPE ad campaign with a post.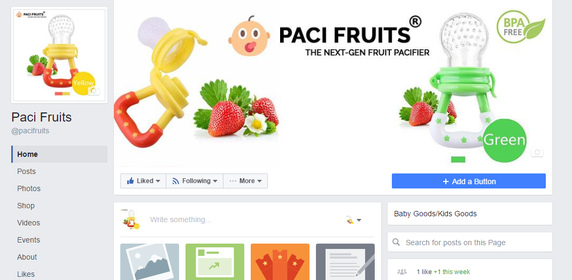 Though this post is about online business without investment but well the results I got out of investing 880 INR was staggering –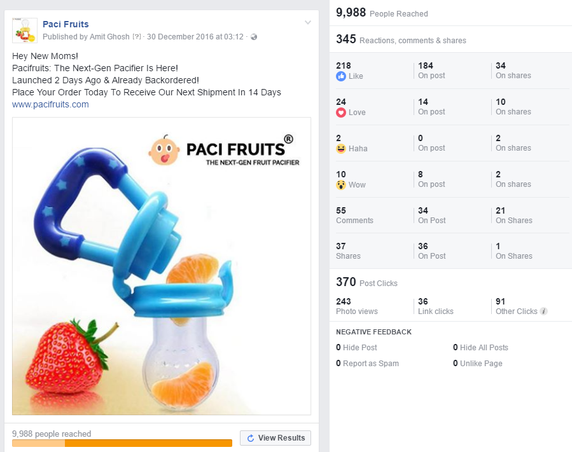 The Selling Begins
It was a good return on investment.
My only secret was – instead of targeting the whole country; I targeted the cities having highest rent in US cause that is equivalent to spending capability of that city and I was also targeting moms of a singular age group.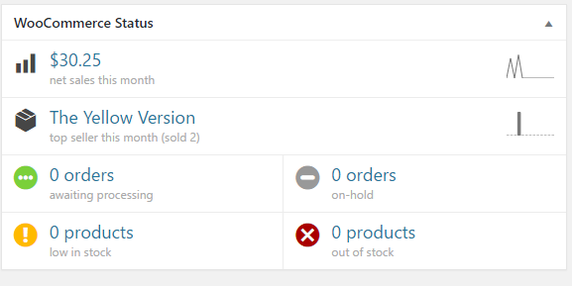 We were getting orders every time we turn our facebook ads on.
Flipping the Site
Then I got bored out of it. I need to move to the next idea cause those the return of investment was good, it is not a mentionable one so instead of allocating money from my stash; I thought to sell it and build an empire of dropshipping sites out of the money.
I listed in flippa here.
If you've been to the site and using it for a long time then the bid doesn't mean anything. what means how many interested buyers are there and their engagement.
This guy was the first to message me – He wanted to take it out for 450$.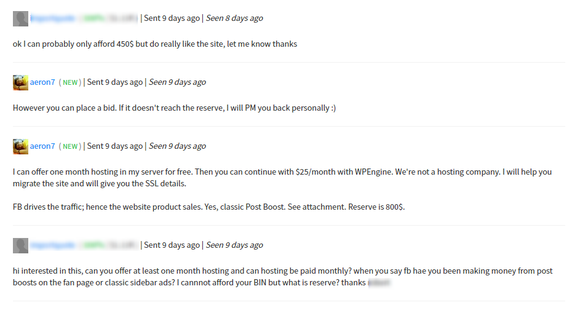 It's sold
However, I sold it to my Aeron7 client at the end of the day at the price of 1.5K USD and deactivated the flippa auction. So, here does the end story of online business without investment paying off.

Tip: Skrill is shit. It takes a shit ton of money from the person who sends the money and from currency conversation. There will be no profitable online business if you use Skrill.
The Profit and Loss Statement
As promised here is the profit and loss statement –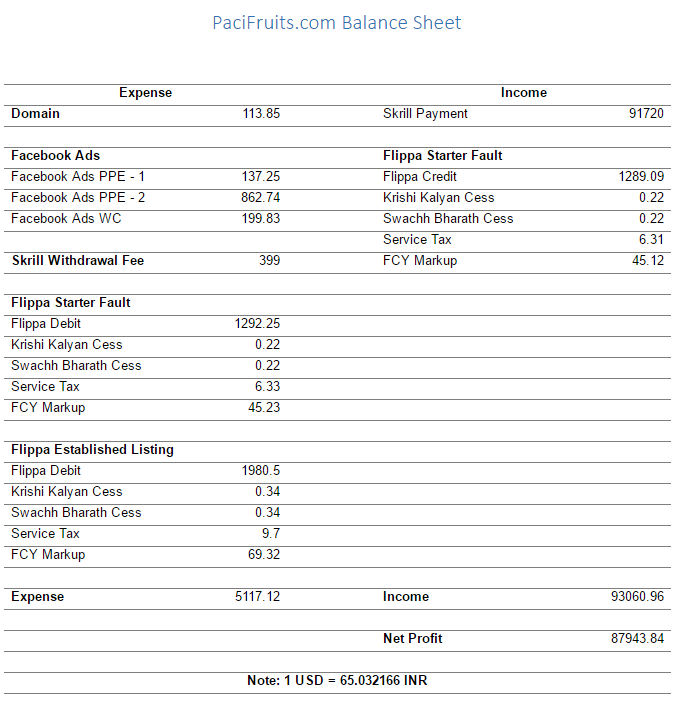 I had my site listed as starter site (19$ value) instead of the established site (29$ value) mistakenly.
Always do the maths
So they had me refunded the 19$ so that I can list it again properly. However, if you notice, I was returned (6.33–6.31) .02 less in service tax and (45.23 – 45.12) =.11 less in FCY Markup.
.13 INR is a piece of shit but I lose around 4–5K$ in this kind of small stuffs. Always do it extensively.
Tax
There was no charge mentioned for hosting, SSL implementation (SSL was free), Transfer of site. Now you can save tax by showing the appropriate amount in those fields as expense showing a net profit as O.
That's an amazing fact.
So for a business which was started in 5117.12 INR and made around 100$ in between and sold at 93060 INR within 2 weeks is a pretty sweet deal.
What you've learned?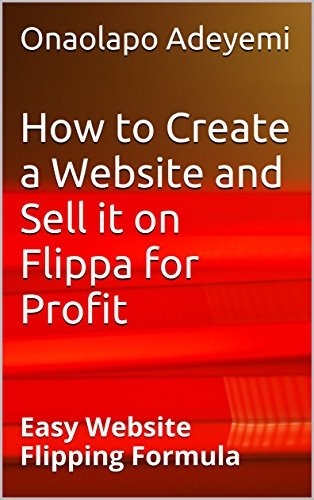 Irrespective of whatever is written in the book like these ones(click here for the book), I had it applied. This site became a blueprint for me and I can make 10 sites and sell them in higher margins.
So far you have learned two methods using which you can make online business without investment. Ha, pennies have to be spent though but the profit margin is high.
You can do the dropshipping or can do the flipping. Both has the same amount of money where the dropshipping became more scalable one!
I intend to make a free dropshipping course later on my website (just stay subscribed there; I'm drafting the content) cause the course I referred in my post 3 Skills to learn this year to Make Money Online is not sophisticated enough,
PS: Don't buy this book mentioned here.
If you have any questions on dropshipping or flipping a website in flippa or any other kind of online business without investment, do drop a Hi in the comment. I shall be happy to help.