I was quite active in Quora for a brief period of 30 days. But I stopped writing after noticing that some people buy based on the answers blindly.
Don't follow blindly anyone!
The most tragic part was I never wrote the part when to exit which must have caused sheer pain to many fellow traders who align with my thoughts and opinions and just bought the stock being manipulated by the answer.
Probably some of them had hefty earning and someone them had me killed in their mind over dozen times. No! 
The case of CUPID
On the date of 10th October, I recommended to buy the shares of Cupid here.
I asked to buy around 290.-300. I was targeting to buy at 295 and the trading opportunity came around the next trading day where it touched 295. If you see the answer I was already holding 500 shares.

I also mentioned "These are my current holdings of my short term account. I am currently buying in every dips of Cupid and selling at a decent level and praying to God to make it come down due to some correction or this and that so that I can buy again. :) "
I also wrote that I was targeting it to touch 600 in next 30 months. But well, I do not have patience for that in short term holding. I added 4,000 shares more on the day of 13th October. I did a DCF analysis showing the 'should-be' stock price that time had to be around 410. So I was targeting to sell them around 355. (410-290 = 120 ; 120/2=60 ; 295+60 =355).
As It is a damn strong resistance.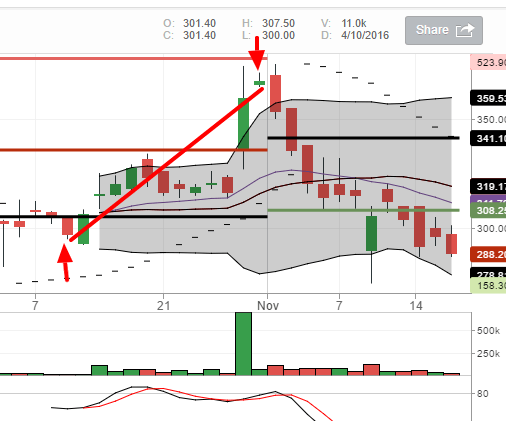 I sold it at the top. You can verify here where I wrote I have sold my CUPID stocks on the day of Muharat Trading. I nailed it at 365.
I had 500 shares of CUPID bought at 284.50 as as well as 4,000 shares of CUPID at 295. As I have sold them at 365, the profit was huge (365-284.50)*500+(365-295)*4,000 =3,20,250 INR.
It is currently trading at 288.
I am snapping about 1,000 shares today and may snap more irrespective of it's increase or decrease. I didn't mean you to buy it, I recommended this one as I am going to buy this too based on some fundamentals and theories I believe in. If, you are buying on reading my answers, you need to read every single post I make on internet to stay tuned for the exit unless you understand it yourself. I receive average mails of 600-700 a day; and considering I reply to each mail giving my 5 mins; I am stripped of my time; so I might not see your mail at all.
Your money. Your loss.
Take Profit or Stop Loss gets pivoted. I shifted it from 355 to 365 as their quarterly earning was far more awesome than what I had calculated myself.
SO LET'S GET YOU
Please feel free to subscribe to my newsletter and get exclusive online business strategies that you cannot find here on the blog, as well as free access to my eBooks.
x
Hedge
People always show their profit and hide their loss. Today I will share the loss to motivate haha. Right now one of my Zerodha accounts is facing a massive draw-down of 13% where I never saw my portfolio down even 5%. Have a look here –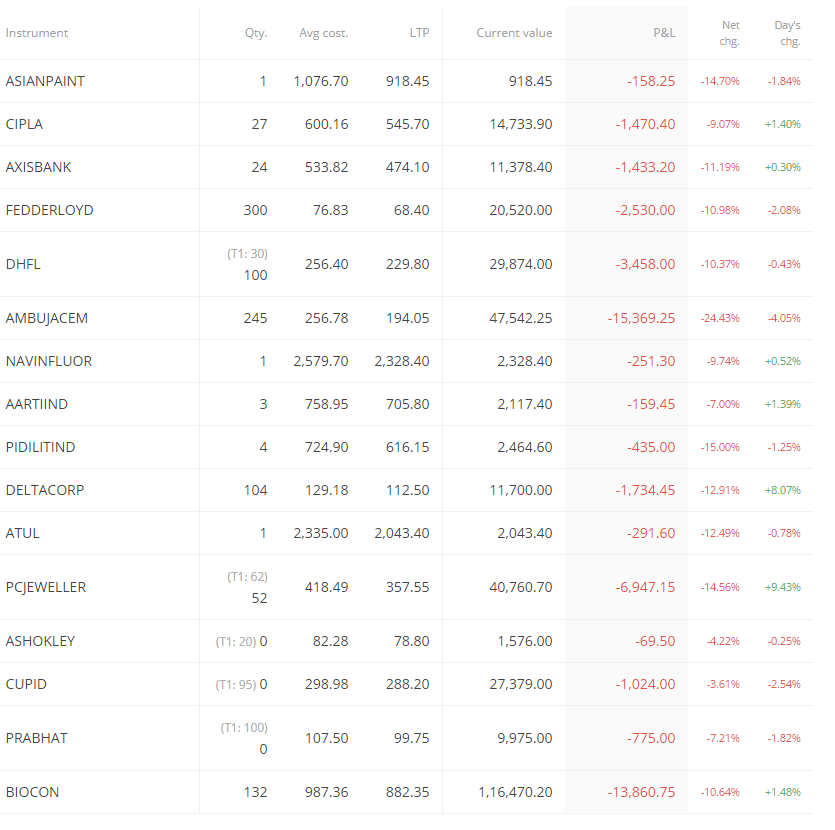 But well, I made 45% of profit of whatever you see negative here. So I am in profit of 45-13 = 30+ You may say how.
The moment I realized

Biocon

is at free fall I shorted 10x times of the holding amount intra day.
I did the same with

PC Jewellers

from the day the demonetization kicked in. I made supreme profits for couple of bearish days but shot with loss yesterday as the stock ended up bullish but I had the trade closed after couple of hours of market opening. So it was short loss.
Shorting Ambuja Cements since long time based on the fact how it stays at the time of 9:15 AM. I feel it stays bullish or bearish all day long without significant reversals so the opening time is a good indicator moment being. Started to short more after demonetization.
I shorted Delta Corp when I heard of demonetization; there was no way a casino can survive well without black money.
This is like hedging against your own share holdings based on intraday but on more aggressive and bigger scale. I also do hedge with options. That's why following someone like me will may end up situations like this cause my data is incomplete and I believe if I hold it till I will have them all in profit! 
The Trump installation
Hillary's win was already appreciated by the market and if you read my answer regarding this topic, you can see I was biased towards Trump. Well, yes. I like Trump more than Clinton and so does everyone I known of.
On the doomsday I shorted the VIX options till the results of Florida was estimated by Wall Street Journal that Trump is going to win by 82% chance. I reversed my trades.
The following Indian trading day, I shorted my entire portfolio with more leverage as I was fearing market will run for a free fall and bought it back by end of the day. It turned out as a charm but Zerodha was having glitch like shit whole day long!
Tip: Use After market orders.
Post Quora Answer –
After I wrote the  above said Quora answer, I shorted Nifty Options and Bajaj Finserv with a good leverage for following days till today (Yeah, I made a loss today) as I calculated. Here are the results. 
I started shorting Bajaj Finserv on 7th when the parabolic SAR confirmed the flip on the previous day. I got anxious as one of my portfolio manager was having this stock accumulated but well, I didn't interfere them thinking they might have some plans.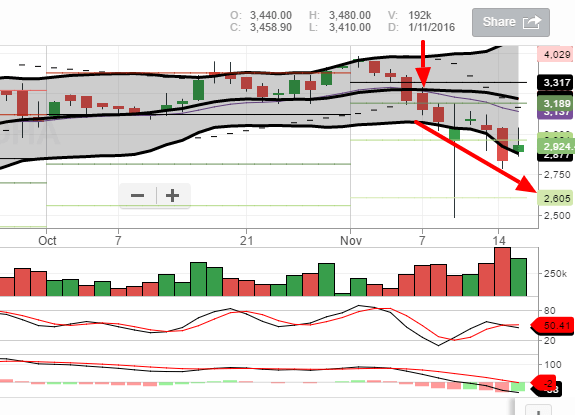 But I was wrong! They didn't close the position and I am serving a minus sign on my balance with them. But overall, I gained a hugesome here :)
Gaining 40 times with Nifty Options
I shorted Nifty Options after the next day I wrote that answer and till now made around 2 Lakhs !! It was 6th November. Thanks demonetization. Now I am seriously thinking on giving trade more time than my website works. Here is the details:
The reason I did is – Max Pain Theory. I believe that NIFTY will end up higher than right now at the time of expiry; around 8200 as of I am writing. But I am unsure. Whoever followed me in this trade is sitting on huge chunk of cash for sure! Also instead of positing confirmations of  my trades and making my posts smell like arrogance, I thought of releasing my trade details by the end of the 60 days Zerodha Challenge.But broadcasting in a public forum like Quora with continuous follow up with my trade setup took a toll on me.
I came to a conclusion after this NIFTY trade – I will be selling majority of my portfolio's fundamental holding and focus more on derivatives. Option Selling has high probability of winning than any other instrument!
What I'm buying tomorrow –
Good thing is I have plenty of available cash due to the option trading to grab some discounted stocks. I'm unsure of exact certainty of tomorrow as I do place the trade after lot of analysis in intra-day but –
I will be buying either Maruti or Eicher
will increase my stake on PC Jewellers by 1,000 shares
400 shares of Fedder Lyod
200 shares of Delta Corp
100 shares of Ashok Leyland
300 share of Cupid
600 shares of IDBI (maybe)
100 shares of Prabhat (maybe)
Yeah.. Shopping time! 
What did you do in these days of  Trump and Modi effect? You made a killing or got killed. What're you buying? Let me know on comments :)
PS: Here you can find nice trading related books!