Above Image: A man is seen trapped amid the debris of the under-construction flyover after it collapsed.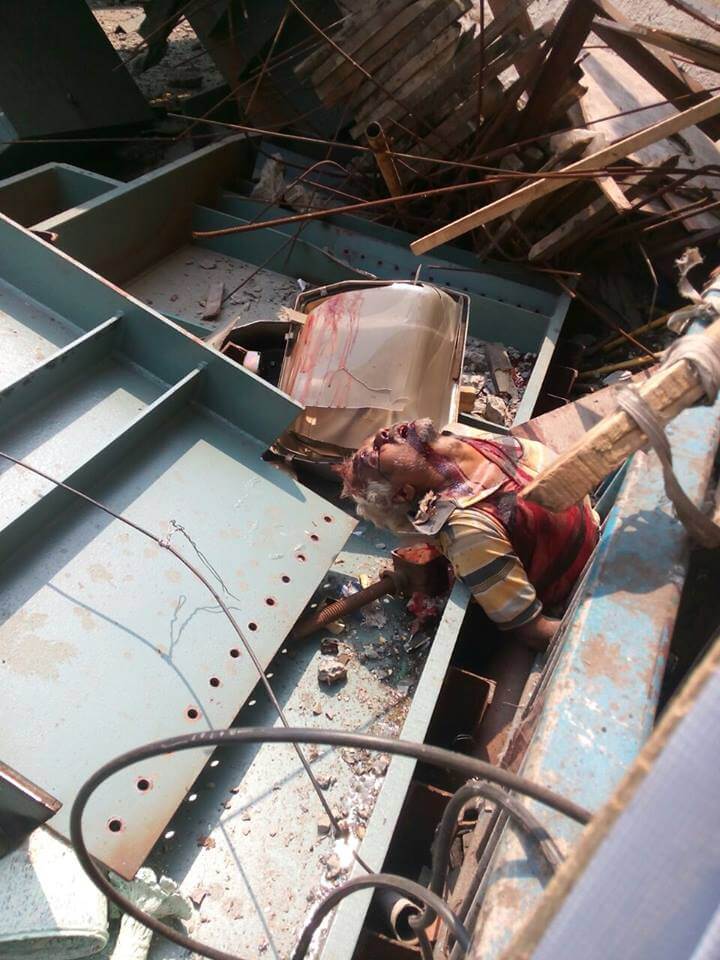 I was heading for my office after lunch when my dad showed me the news – What I saw first a guy's head was trapped between two taxis and there were beam over that taxi. And 3-4 camera crew from different channel is filming that instead of doing anything . So, what happened ?
When I was watching – An under-construction bridge collapsed near the famous Ganesh Talkies in north Kolkata's Posta area where my dad had his office just side of that bridge and shifted half month back. Our truck used to stay in that same place. So, it's luck! TV was saying 150 people are feared to be trapped under the debris in the busy neighbourhood. And there is a minibus stuck there; under that collapsed bridge. So many people are dead and trapped inside including a large number of children.
Watch the live video
Fact 1 : Election Pressure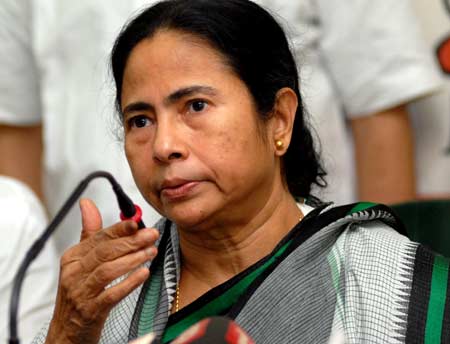 I give a shit about politics and I feel my state is in 1800s; some of my school friends are doing politics but it is life lasting process. It's too corrupt as well as there are too many ignorant people are bossing the system. Local goons shift the politics party and stayed at the same place haha; leave it. This is the second flyover/bridge collapse in kolkata under Mamata Banerjee's watch. With no checks and balances and Zero electoral consequences she might do just that. Well, I believe from what I perceive is she is a really good person amongst tons of other money mongers.
Fact 2 : Corruption
"It was a powerful collapse, sent shivers down my spine. People here are very scared. Cement and concrete were poured in yesterday only, it suddenly collapsed today," said another eyewitness.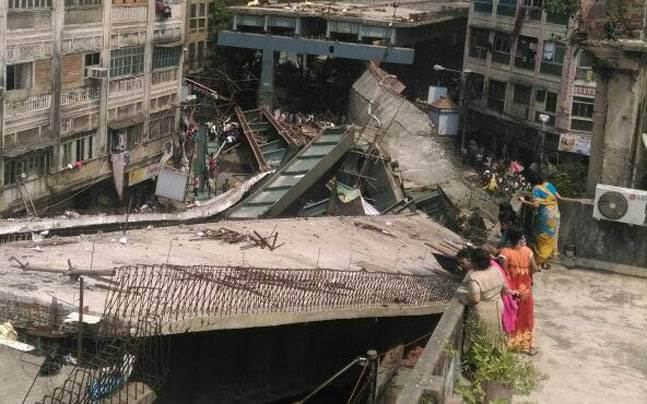 Well, its not normal here in West Bengal. If you have bidded for any tenders in West Bengal (Well, it applies to the rest of the India too) then you are supposed to pay a handsome amount of money to the respective politician.
So it's 99% likely that the company has paid high amount too and the owners of the company saved all of it in their pockets and used awesome material + engineers that made it collapsed. After that, I can write you a blank check betting that there will no real action against anyone cause there has not been any real action against any ministers since after independence.   Newspapers will have something to print and channels will have some TRPs. Otherwise why they are showing a bloody hand reaching out from under what appeared to be a massive girder.
"It is nothing but an act of God. So far in 27 years we have constructed several number of bridges…it never happened," said K Panduranga Rao of the Hyderabad-based IVRCL, the company building the flyover.
Fact 3 : Under construction since 9 years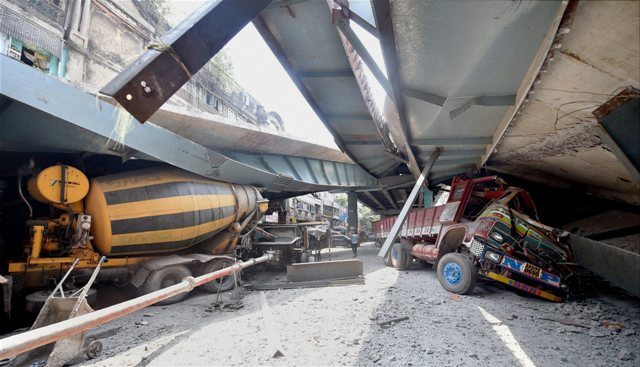 It is a Rs 164-crore project which the Left front government had initiated in 2007 to facilitate the movement of traffic as well as pedestrians in this busy and clogged stretch of the central business district in Burrabazar  and the flyover was supposed to be one of the longest in the city and ease traffic woes by connecting the packed Central Avenue to Howrah Bridge. But it missed several deadlines as the implementing agency went bankrupt amid ballooning costs, land hurdles and frequent design changes.
As my dad's rule says, (Well every news watching dad will say this) the company was under pressure to complete this as the vote is coming. Government works in 6x mode in the vote times. After election it snoozes for 4 more years. Things get done in overnights. But, the final deadline for the flyover was in May 2015 but was missed.
The frequent delays and cost overruns may have taken a toll on the structure – a common problem with infrastructure projects in Kolkata.
Fact 4 : Service Time
Well, it's tons of ego issues between central and the state which makes the army call delayed for quite a time of one hour. The flyover is located at the hub of the wholesale market for spices, garments and plastics, BurraBazar, and the livelihoods of thousands who reside in the area, are linked with the market. So it made a 5 kilometer circle of traffic jam. A chaos!
Workers struggled to get cranes and other large machinery through the narrow streets of Burrabazar, one of the oldest and most congested parts of the city. The death toll was likely to increase as scores of people inside vehicles were trapped under the collapsed bridge.
Fact 5: It'll happen again
Well, I am a guy who don't even care anything outside of his work. I don't care if there is a moon or not unless it affect us, ofcouse haha. But after googling abit here and there, I can confirm it will happen again till this corruption is extinguished completely. Well, the politicians are not shameful.
They just arrived and gave speech and made comments. That's all.
Fact 6: Politics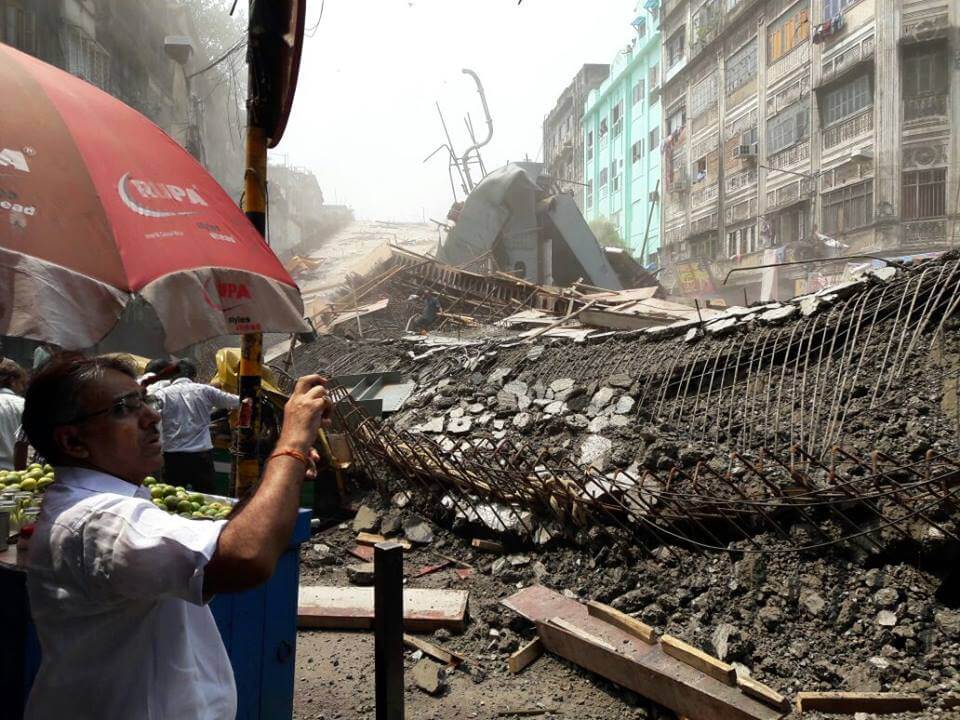 Well, I will just paste what our leaders saying and how they are blaming each other in that place. Well, I think they are grateful that they got some footage and some topic to debate.
"Construction began on flyover during CPI(M) time, not our time. We have cancelled all our election meetings, and have come here. The guilty will be given strict punishment" Chief Minister Mamata Banerjee said.
A newspaper reported last November that Banerjee wanted the flyover – already five years overdue – to be completed by February. Project engineers expressed concerns over whether this would be possible, The Telegraph said at the time. Source : Reuters
"The construction work was carried on in an unscientific manner. The state administration did not take any lesson even after the collapse of Ultadanga flyover three years ago," said BJP minister Babul Supriyo.
The Congress demanded the arrest of state urban development minister Firhad Hakim. Well Congress demands now!
"We demand full investigation. People are dying like cats and dogs," said state Congress chief Adhir Chowdhury.
In the election-bound state, senior BJP leader Kailash Vijayvargiya lost no time in blaming her government for the tragedy. "Mamata ji's government is responsible for this, we want action to be initiated against the ministers and people associated" Vijayvargiya said. Source: Indiatoday
Well, they give a shit to get into the matter on what happened really and as I mentioned in fact 2, there will no punishment for anyone except some TRP building headlines.
Fact 7: Statistics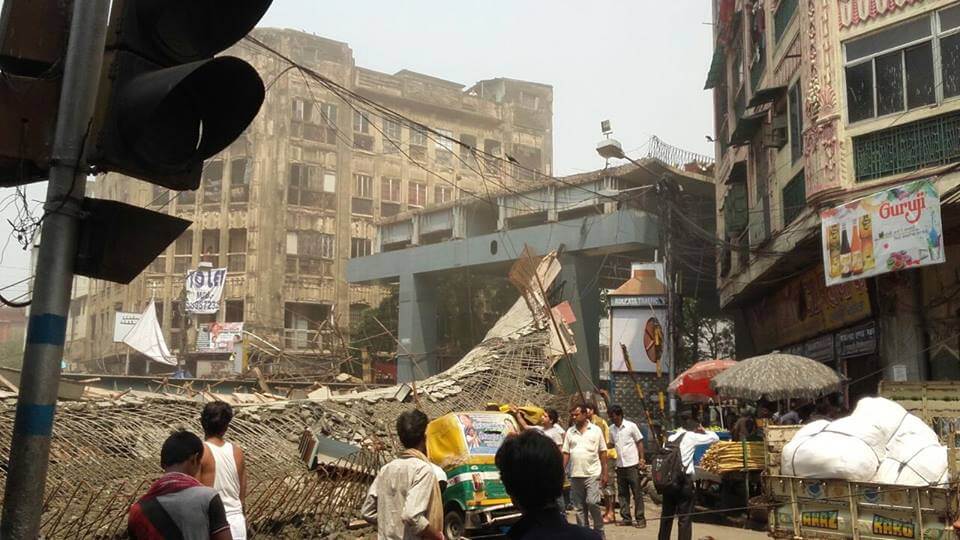 Eyewitness Ravindra Kumar Gupta, a grocer, said two buses carrying more than 100 passengers were trapped. Eight taxis and six auto rickshaws were partly visible in the wreckage.
Death toll rises to 21, over 80 injured.
Two buses carrying more than 100 passengers were trapped.
Eight taxis and six auto rickshaws were partly visible in the wreckage.
It's a reflection of corruption and result of the considerable pressure to ensure speedy completion of the project to get votes!
Why the hell they were doing for 5 years? But well, we are getting an options to choose between the less corrupted party at this moment. All are same; public is getting fucked up.
If you want to see more detailed news with timeline, head to Indian Express.
Well, I am abit horrified as our truck used to park under that same bridge for last couple of years till 14 days ago. What's your thoughts and views on this event?