WHY
Let's take an example – A guy from Bhubaneswar wants to go somewhere in the weekend along with his friends. Now people wants someone legitimate and trustworthy and definitely cheap. But if you search for Orissa, you will find absurd listings. Nothing is transparent. We called up some companies who came up top in the Google; they behaved repellent and egoist. So after a year long survey, we found the industry is untouched and un-united to an extent over 91%.
In Orissa, there can be alone 120-150 good trips. You have not even heard of most of them cause they aren't in the limelight. The profit margin from all the online tour sites are way above high cause the money is flowed between between the listing company as well as broker to the service provider.
Like let's say this Neemrana Trip ; Here is some quick snapshots if you are lazy enough to check that site though.
So, is it really 7000 per person ?
Hmm, let's calculate. Let's say you go lavishly.
1. There are always shuttle cars going between Jaipur and Delhi. If you have settled with driver, they will take exactly 200-300 INR from Neemrana to Delhi and from the drop point of Neemrana to the Palace, the autowalas take 50-100 INR depending on how you look like. I do look like a beggar though with my half pants and a bag with laptop. So, that's an advantage.
2. The zip like stuff costs 1500 INR if you have talked with them earlier and they have tons of hidden discounts like Student discount and stuff. If you book online, you will get 40% discount and 2 hour access to the Palace.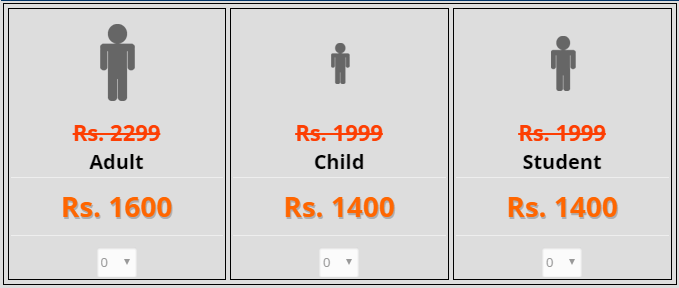 In case you don't know Neemrana Fort-Palace has become one of Delhi's favourite escapes for a day-trip or a weekend. India's first heritage hotel, Neemrana is a product of the creative genius of Aman Nath and the late Francis Wacziarg. In the 1980s, they horrified their friends by spending seven lakhs buying a tumble-down ruin of a fort, then spent the next three decades transforming it into one of India's most spectacular and unique hotels, with more than 60 rooms, two swimming pools and an Ayurvedic spa.
At Flying Fox Neemrana awaits a zip-line tour like no other! Comprising 5 zip lines totalling 1250 metres of flight, you get to venture into the age old Aravalli Mountains of Rajasthan, and fly the fox with a vulture's view of the spectacular 15th century Neemrana Fort Palace​.
3.  "If you purchase your Flying Fox ticket in advance, you gain entry to the Fort-Palace free of charge. Otherwise, there is a charge for Fort entry including lunch of Rs 1600 on weekdays and Rs 1900 on weekends / holidays for non-residents. As a Flying Fox customer you are permitted to spend up to two hours in the Fort-Palace before or after your zip tour, but please respect the privacy of hotel guests and do not enter areas of the hotel reserved for residents only. " – says their website.
Believe me, if you love yourself, I will ask you not to have lunch there. That was incredibly costly and bad so enough that the Flying Fox stuff asked me to take auto and goto a nearby hotel named Highway King. Most of the shuttle cars coming from Jaipur halt there and you can make it out. So it costed me roughly of 2500 INR.
But if you connect and collaborate and spend 3500 INR, you can get a luxury trip (if well planned).  I think you can now see a 50% profit margin. There are heritage vehicles in the hotel using which you can travel the village also. What about keeping them as add-on ?
Do you know, the fort becomes another fort in night. So what about keeping that as an add on too. What about if I have a change of mind in the middle of tour, I can re-schedule all the stuff ? I know it is extreme to manage but think about the customer. They will be ready to pay anything if you ensure the happiness.
What I hate most is travel agencies call people. It made itself service industry. I want to make it like a product industry where people will get ample options to customize their tour directly from online without having spam alike calls. I know I am asking too much but what I seek most is the transparency and customer satisfaction like Dominos and Uber.
I was travelling in Uber and jokingly texted them,

"The Driver farted"

. They responded me with sorry for such experience and credited me with 200 INR. Who does that really !
WHAT
Good Sides:
# If you are reading long then I am pretty sure, you are interested enough though.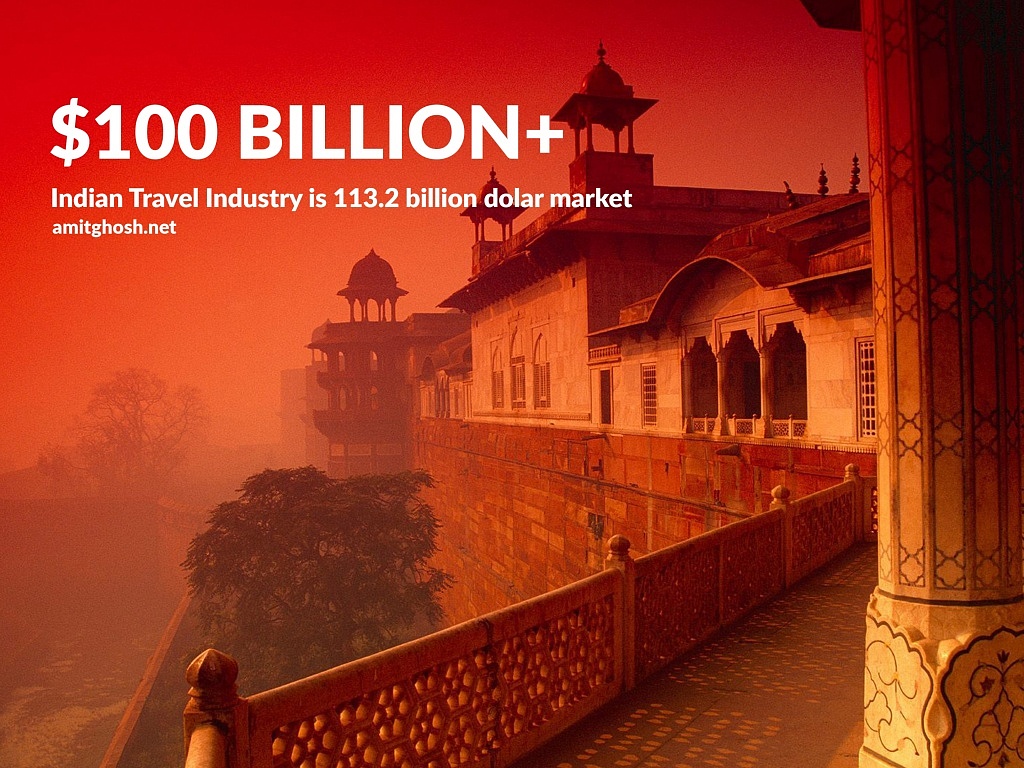 India's travel and tourism industry is expected to grow by 9.4 per cent in 2014, outperforming the general economy by 3.5 percentage points, says The World Travel and Tourism Council (WTTC) in its annual economic impact report. In a country which has the world's third largest number of internet users (after China and the US) and third largest Facebook users (after the US and Brazil), online booking of travel plans have become more convenient now.
#Indian consumers view the concept of package tours more as a sign of luxury. What if we give them price breakdown with add-ons and separate prices based on separate mode of travel and accommodation ?
#People in India were unsure of how to use such a platform and how it would work. They preferred to do things in person. Obviously, if you list something costs 7000 INR a day, people are not there to just donate the money without knowing if they are doing it for a perfect shot! Right ?
#The travel and tourism industry contributed a total of 113.2 billion U.S. dollars to GDP in India in 2013 – this accounted for 5.35 percent of India's total GDP. The industry directly provided more than 22 million jobs in that year. Not only is India the second largest tourism market in Asia after China, the country was also ranked in the twenty fastest-growing tourism destinations worldwide by the World Travel and Tourism Council. Placed eleventh in the list, the direct contribution of travel and tourism to GDP in India is expected to grow an average of 6.4 percent annually between 2014 and 2024.
#Funding: I have a strong network as well as I belong to a very rich family and can pull off funding worth of 50m$ if the traction goes well. But idea is one thing, conceptualization of idea is another headache and higher headache is execution.
Bad Sides:
# I need a business plan from your side if you want to get part of this venture and are serious enough. I have my own business plan with one missing ingredient – my time; I can not pull it off alone. We will compare with each other's business plan. You can see samples here. So I need some serious people with at least two years project plan. 
# You need to ruthless, asshole, diplomatic and careful. If you are in a startup, you might have to get out of your comfort zone. You might get stuck so that you can not see your best friends for long time. You might miss festivals. Like I missed my Durga Puja this year and also spending Diwali making sites and currency market.
#I have an entire team to manage the whole technical part but I have only three person  working for me in India so we are currently overloaded with projects. I can't devote much time to it but I can solve the whole technical part.
FYI
# Well you can visit the site ecstasyadventures.com but I will change it into something more like what I did with rentnwork.com . So yes, it will be changed with something more quality. But I don't want to do it alone anymore. 
# I once invested in physical shop. You can find it in CT Road, Puri. But the owner is deviating with my vision of transparency so I will probably cut it out.
# We have organised like 80 trips, exactly 82 trips.
So, in a short, It's funded. Market is well-analyzed. Have good revenue every time he had looked into it. Just in need of someone who can make it his/her soul.
Are you serious?
I am. I think of it every single day for last 2 years! Are you?
PS: Don't bother me unless you have thought on this seriously and have the business plan ready.