Today, I will share a strategy based on scam and market manipulation. Though my strategy has worked out 100% perfectly, I will recommend you to invest only that amount of money which you can afford to loose.
I named my algorithm "The Astrological Call" which has a success probability of 100% since I have been testing.
Pact Industries Scam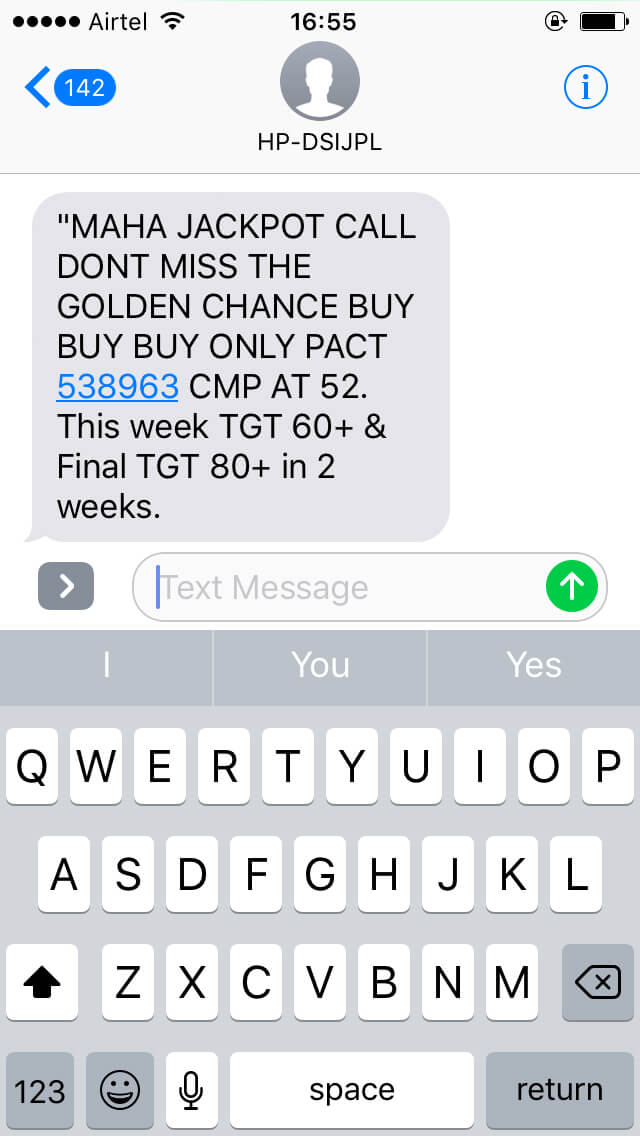 Running a website company, I am pretty wellversed with Python and Excel. Recently when I answered a question Amit Ghosh's answer to How do Ashwani Gujral and some others like Sandeep Wagle etc are able to predict the correct future high rate of a stock and that too when the stock rate is very low? it triggered me another similar question.
I researched using Python and Google Sheets. Here is the link of that sheet Stocks. With 16597 data points from ET Markets and 17989 data points from an another major site, I surprising found a mathematical relation which works perfectly as a winning move.
So, that's not the question. Is it?
Once I was researching on Anurag Bhatia's answer on a question in Quora. It's called Who are the stock market operators? which triggered me to think – How can I take advantage of it.
Having access to nearly 20 demat accounts with various brokers, I had enough data point which lead me to similar research.
So, my wife's iPhone got a nice message –
The strategy is –
Whenever you get message like this, celebrate and start observing daily charts. Buy it
I invest 10,000 INR in each trades for these cases.
If you see a red bar in daily chart, put an order of Sell it immediately.
Put a sell order of 10,000 INR stocks in the next day.
Wait for the magic.
Seems like it works like a charm.
Here is the result –
Aplaya Scam
So, here are the scam messages –
I do not think "HP-ANGELB" means Angel Broking. Somehow great scammers made a way to know that I have an account with Angel Broking.
They have done epic research!
Here is an another message and now You're confident to buy, right? It must be hot stock.
So I have over exactly 28 messages and 6 calls to buy that stock in different numbers from different numbers but with same voice which calculates that is it is some genius behind this gimmick.



Though Capital Via is a shitty irritating company who calls and gives headaches. It was not them too. They are a good company (not too good!) cause my friend works there and gives me amazing shots on Gold but there are scammers who takes advantage of them.
But, Scammer left a clue. The phone number 7822076600. It's Ashlesh Shah from Rajasthan. It is a easy find using Truecaller. Though the name is not original for sure but the location has to be Rajasthan.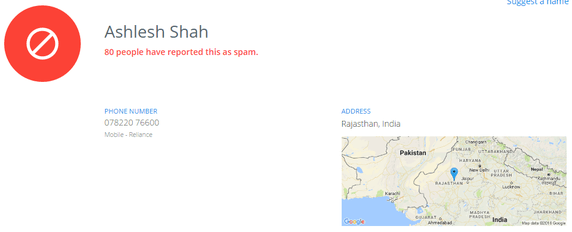 I unfolded a similar scam from Rajasthan who was trying to promote his services strategically in Quora. Read here Amit Ghosh's answer to How can www.punteraction.WordPress.com predict accurately about Indian stock markets?
But, Capitalvia is from Indore! Now what? Apply my strategy.
Here is the result –
I made a nice rally upwards taking a buy position where I have written A. I took sell position at the point B.
Anyways, Look at the volume that fake messages managed to manipulate! If what I am assuming is true, Ashlesh Shah made crores of rupees using these scams and you can safely call him – 'Jordan Belfort of India'.
Who's next
I have shorted VARDMNPOLY, KRISHFAB, SUPREMETEX, APLAYA and PACT in the last month. Here are the rest of the supporting documents. If you see this, you know what to sell this Monday –







Did you noticed that why I coined it as "The Astronomical Call Strategy" ? Ha, In one of the messages (see the image) notice that it is written –
Invest in our 100% sure Astrological call..
Quite Astrological.
The humour in it made my day! But the term is actually –Crapshoot Investing. It's a story about how Tech-Savvy Traders and Clueless Regulators turned the Stock Market into a Casino. I'm preparing a list of stock market books available online in e-book version. I can not share that in public, if you're subscribed with me, wait for my e-mail.
Happy Investing!
SO LET'S GET YOU
Please feel free to subscribe to my newsletter and get exclusive online business strategies that you cannot find here on the blog, as well as free access to my eBooks.
x