Let's share my journey to Indian Stock Markets.
I know quite a lot on forex but Indian Stock market was blurred; Learned about shares when I formed my company but didn't figured out about options and futures and other stuffs. And it had been many days since I got to take my head off from my web design business.
So I took a shot when I got operated with my dental problems. Cleared all the schedule; and started learning. If you are like me, I would say you must stumble upon this website

So, let's have a review of tradeacademy. I liked the indicator part as I have already studied most of the indicators in forex. So similarities, meh ? :)
Well I liked the courses a lot, specially the quality of it, presentation to the animation and the brevity. But, alternatively I do not like many of the stuff too. Their main objective is getting more customers in their brokerage platform Upstox rather than educating; similar like Zerodha's Varsity Program.
Look at the above video. It all sounds wow but unless he has altered the video you can see, I think at 4:46 the target is not achieved. It is hitting Stoploss before the target. So basically the trade will stop.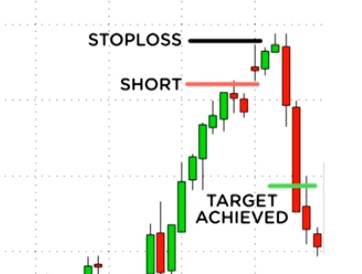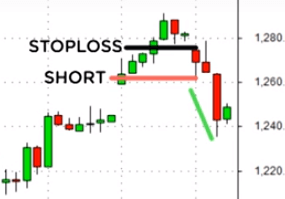 But one thing is – I have never seen anyone like Prateek who understands what he is talking about and is able to present it in an interesting manner. So he pumped me into Indian Share Market! Kudos.
The main practical suggestion that comes of this course is the chapter named – The 15 min Option Trader
You may see the first video above. Their videos are getting shifted to Vimeo so that it can not get played embedding into other domains as other domain doesn't contain like to RKSV haha.
The 15 min Option Trader
In one segment they did backtesting as backtesting a trading strategy gives us an idea for number of trades our method is generating (in sideways and in trending markets), Average profit per trade, average losses and no of days we are in a trade. I am right now learning Python at TeamTreeHouse to be able to program to backtest some strategies.
Do you want to skip the whole video and learn the price action mentioned mentioned in Tradeacademy? Here it is –
Results
Here are the back testing result on July-September trades of Reliance –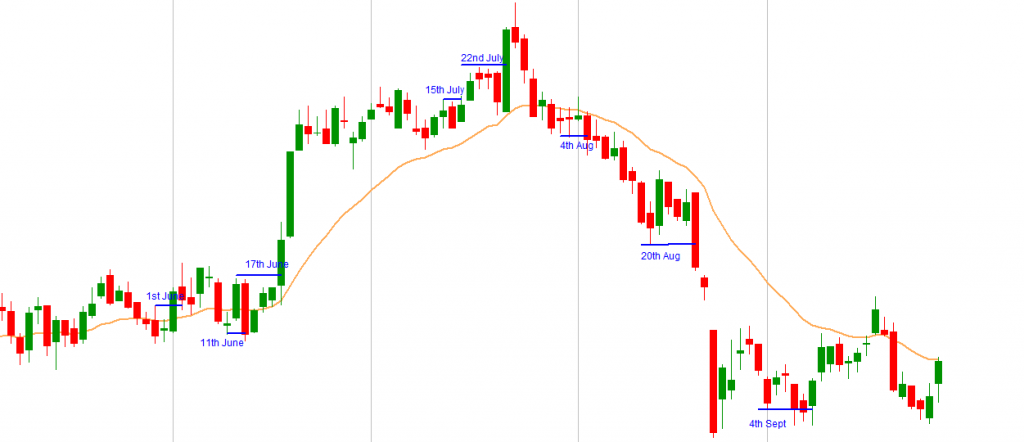 Reliance June Trades:
1st June
Bought 900 CE @ Rs. 22.85
Stoploss – Rs. 16.00
Target – Rs. 29.70
Target hit on 2nd June
Profit +30%
11th June
Bought 880 PE @ Rs. 28
Stoploss – Rs. 19.6
Target – 36.4
Stops hit on 12th June


Loss -30%

17th June
Bought 920 CE @ Rs. 39
Stoploss – Rs. 27.3
Target – 50.7
Target hit on 18th June


Profit +30%
Reliance July Trades
15th July
Bought 1000 CE @ Rs. 27.85
Stoploss – Rs. 19.5
Target – 36.2
Target hit on 21st July
Profit +30%
22nd July
Bought 1040 CE @ Rs. 28.30
StopLoss – Rs. 19.8
Target – 36.8
Target hit on 22nd July


Profit +30%
Reliance August Trades
4th August
Bought 1000 PE @ Rs. 26.35
StopLoss – Rs. 18.45
Target – 34.25
Target hit on 10th August


Profit +30%

20th August
Bought 920 PE @ Rs. 13.65
StopLoss – Rs. 9.55
Target – Rs. 17.75
Target Hit on 21st August


Profit +30%
Reliance September Trades
4th Sept
Bought 840 PE @ 28.05
StopLoss – Rs. 19.64
Target – Rs. 36.45
Stops hit on 8th Sept


Loss -30%
Though if you do not understand what is option, swing high or swing low; I strongly recommend you must sign up there and learn the whole course. It will take you a night to gallop all the videos up there.
My Review
Pros
The video quality and the quality of the instructor. You can swap in so much thing in so small timeframe.
They conduct live workshop; I attended the Delhi one accidentally.
Far enough site to get you launched at least to see channels like Economic Times ha!
I love the design. Well, I am a professional designer; so it elites my hunger seeing something lucid.
Cons
They sponsored to open account with RKSV. Well I submitted my application; there was something wrong in it. They sent me a mail that there is something wrong in my account. That's fair; I mailed them back but no response for 48 hours; instead I got another mail from a sales team of them to open a new account ? What the hell? I shot them in mail but alas, I sent another application to Zerodha and by the time they told me what is wrong with me my account is opened with Zerodha. So, screw them!
The instructor avoids replying to all the comments. So if you have genuine doubt, I do not think you will get response.

Verdict
– While back-testing my choice of swing high and swing lows didn't matched with whatever is already shown there. So It is useless to me. Yours matched ? Contact me! Let's have a talk :)  
– I will open the account in Upstox later anyway just as a tribute to their design only. Well, I watched all Emraan Hashmi movie despite of them being shitty just as a tribute to the awesome songs. It is strange that he has too good songs in his movies.
But make an account with Zerodha! What's your review of Trade Academy? Share in comments!
SO LET'S GET YOU
Please feel free to subscribe to my newsletter and get exclusive online business strategies that you cannot find here on the blog, as well as free access to my eBooks.
x